#10 cans or Mylar Bags
If you have been shopping for long term food storage recently you've probably wondered about the difference between food producers that use #10 cans or Mylar Bags. So I thought I would go over some of the differences to help you decide which one is best for you.
Unlike most websites that carry food storage, we carry brands that use both methods, so we really don't have a vested interest in persuading you either way. Two of the three companies we carry use Mylar bags inside of buckets (Legacy and Wise) and Mountain House uses #10 cans inside of boxes.
Most food storage providers offer two different types of packaging, the shorter shelf-life "cook in pouch" meals and the longer term variety that is stored in larger Mylar bags or #10 cans. This article focuses on the longer term variety.
All long-term (+20 years) food storage is packed in Mylar bags or #10 cans with oxygen absorbers added. The larger, more reputable providers use a nitrogen flushing system when packing their product to ensure all of the oxygen is gone before sealing.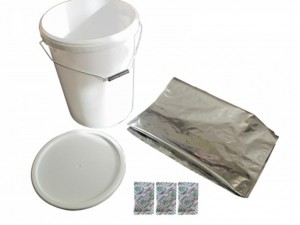 The world's largest freeze dried food producer, Mountain House, packages all of their long-term food in #10 cans (coffee cans) with re-sealable plastic lids. The world's largest survival food seller, Wise Company Foods, packages all of their products inside of re-sealable Mylar bags, which has become the industry norm.
Mylar bags are basically metalized bags that slow the amount of oxygen allowed to seep into the packaging that deteriorates the food. Metal cans, called #10 cans or "coffee cans" do the same thing but to a greater degree.
In study after study after study after study …. (a lot of studies) Mountain Houses' canning process has proven itself to be superior in slowing the amount of oxygen that is allowed to seep into the food over time.
With that being said, I wouldn't let that influence my buying decision. If you are buying from a reputable company that nitrogen flushes their products prior to packaging, the difference is really minimal. You should vote your pocketbook or for the type of food that you like best.
The real difference will be on year 30 in the middle of the zombie apocalypse after the food storage is out of date by 5 years. If you decide to eat some expired stock … this is where you would rather have the cans.
FYI: Mountain House regularly opens 30 – 40 year old cans of food to prove that they are still edible. In fact, they are the ONLY survival food storage company that can open 25 year old samples to prove that their food is still good to eat after 25 years. Every other company is still measuring 5 – 10 year old samples and doing the math to back up their claims.
However, the math is pretty solid. Basically they measure the amount of oxygen that is allowed to seep into a Mylar bag over a measured time frame. Once they get these readings they can usually accurately predict how long the food will remain edible.
Considering the container's Practicality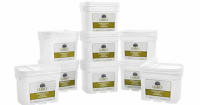 if you are in a bug-out situation you may want to lean towards the buckets due to the fact that they are easily carried and stacked. Buckets stack vertically as opposed to horizontally, so they take up more ceiling space than real estate. It's also VERY nice to have 4 gallon buckets left for other valuables or for water or sanitary uses.
Most long term food storage is packed in 10 – 12 serving size containers. One disadvantage to #10 cans is that if you find yourself only needing to cook a portion of the food in each container; the lid on the can has a poor seal for saving the leftover contents as compared to resealable Mylar bags. Therefore, you would probably want to reseal the rest in a zip-lock bag or other airtight container.
However, don't be fooled by the latest marketing trick, which is the promotion of the re-sealable Mylar bags. Food producers love to promote these resealable Mylar bags with the inference that these will extend your food storage after you open the primary container.
Although these resealable Mylar bags are pretty handy, the inference that they allow you to extend the life of the food storage once it has been opened is false. Once air hits any food storage that has been sealed in a zero oxygen environment you are on a 10 – 15 day clock for spoilage.