Hurricane kit season 2018 began with a tropical storm, which brought high winds, tornadoes, and record rainfall to portions of the southern and northeastern parts of the US. Fortunately, it didn't cause massive amounts of damage but it was the first warning for residents of hurricane prone areas to get prepared for hurricane season.
Everyone in these areas should already have a hurricane kit, but if you haven't put one together yet or if you aren't sure if your kit contains everything it should, we've made a helpful list of the top ten essentials that should be in your kit.
Obviously, we assume that you will already have the need for shelter met, so we did not include that in this list. The good news is, if you have a hurricane kit put together ahead of time, you can simply take it with you to an alternate shelter if you have to leave your home.
Hurricane Kit Essentials
Water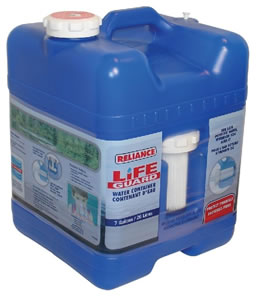 Water is your number one priority item to have in your hurricane kit! The easiest way to calculate your water needs is to plan on at least a gallon of water per person per day to be used for drinking, cooking, sanitation, and hygiene. A 72 hour supply of water is the bare minimum, but you should really stock a week to two weeks' worth of water to have enough on hand.
Easy ways to meet this need are to stock up on bottled water, store tap water in water safe jugs, and purchase a bathtub water bladder which can be filled within minutes and includes a siphon which allows you to only use what you need. Invest in a portable water filter which filters out viruses, cysts, protozoa, chemicals, and other contaminants. Berkey water filters is perfect for households, and it eliminates all of the contaminants that can make you gravely ill. Don't forget water purification drops to sanitize water for drinking.
Food
It's very easy to add extra canned goods to your basket each time you shop. In addition, buy extra of items like peanut butter, crackers, granola bars, cereal, boxed juice, and powdered milk, at least enough for three days' to a week's worth of food for each member of your family. Don't forget to add a manual can opener, as electric can openers don't work when the power is out.
Another option is to include freeze dried meals in your food plan. These have a shelf life of up to 20 years and can be easily prepared by adding hot water.
Alternate Cooking Source
Unless you have a fireplace and a large woodpile, finding a way to heat water and cook without gas or electricity is a challenge. A portable and lightweight emergency stove such as the Stove in a can is a great solution for your hurricane kit. It can hold over 300 lbs. so it can handle the weight of metal pans, and it uses long burning fuel cells that can be lit and re-lit multiple times. Camp stoves and grills are another option, just make sure that you have stored extra fuel and only use them outdoors for safety reasons.
Lighting
It goes without saying that having several flashlights and extra batteries is necessary, but adding oil lamps and rechargeable lanterns means you can light entire rooms of your home. Store extra lamp oil, mantles, and wicks along with a few lighters and boxes of waterproof matches in your hurricane kit so that you have multiple ways of providing light.
Communication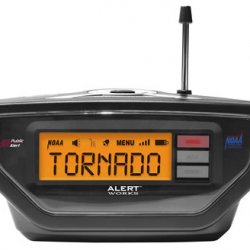 A hand crank or battery powered weather radio will keep you apprised of weather conditions, alerts, and news. A weather radio is a specific radio type that is designed to receive a public radio announcement service, usually from government broadcast stations. These radios are dedicated to airing area-specific weather reports around the clock. Periodic weather reports interrupt regular broadcasts to bring you emergency weather reports whenever needed.
The better weather radios are usually equipped with a standby alert function— which is designed to automatically turn on if the radio is muted or tuned to another band when a disaster bulletin is transmitted.
First Aid Kit
A well-stocked first aid kit is every bit as essential to your stockpile as food and water. After all, how bad would it be to die of infection from a little cut when a dab or two of iodine would have saved your life?
Hygiene and Sanitation
Make each person a hygiene kit containing wet wipes, feminine supplies (for the ladies), toothpaste, a toothbrush, soap, deodorant, shampoo, and a comb or brush. You can use travel sizes or those hotel samples we usually have sitting around the house. Add toilet paper and heavy duty trash bags for sanitation.
Heat
Include some emergency Mylar blankets because they are easy to store and very effective. Also set aside extra blankets and clothes for additional warmth.
Tarp and Tools
Your hurricane kit should have a good size tarp with rope, a Swiss Army type knife, duct tape, work gloves, dust mask, changeable bit screwdriver, and a folding multi-tool shovel. These items have multiple uses and are easy to carry if you need to leave your home.
Important Documents
Put together a "docs box" which contains birth certificates, social security cards, copies of your driver's license, insurance policies, medical cards, and other essential documents in a waterproof container or bag. Add a backup of your computer contents on a zip drive, emergency contacts, local map, and cash in small bills.
Taking the time to prepare now can save you from additional stress caused by the devastation that follows a natural disaster. Being prepared for an emergency and having a stocked and organized hurricane kit will enable you to survive most anything a hurricane throws your way.