Drinking Water Purification Methods
How to Make Collected Water Safe to Drink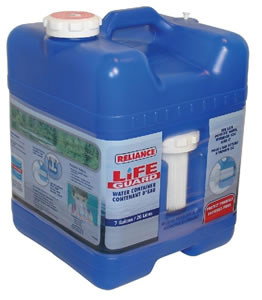 Even if you have a long-term source of stored water, it'™s still a good idea to have multiple drinking water purification methods. You should have MULTIPLE drinking water purification methods, just in case something happens to your supply or the emergency lasts long enough for you to run out. There are 4 basic methods used to purify water, and different styles for each way. Regardless of which method that you choose, you can make purifying your water easier by letting the water sit for a day after you'™ve collected it so that all the sediment in it can settle. Then you can just pour or siphon the water off the top and use the rest for tasks that don'™t require potable water.
Drinking Water Purification Methods:
Distillation
Another, less popular of drinking water purification methods is to distill water. Distilled water is water that has been boiled into steam and condensed back into liquid in a separate container. Impurities in the original water that do not boil below or at the boiling point of water remain in the original container.
Thus, distilled water is one type of purified water. This method uses a ton of fuel but produces extremely pure water. It requires boiling the water in an enclosed container and using a hose or other transportation device to allow the steam to escape, convert back to water, and collect in a clean container. Distillation is highly effective but also one of the more complicated ways of purifying water.
Distilled water tends to be acidic and is best used as a way of drawing poisons out of the body, and is recommended for when you are drinking from a polluted river with known chemicals. Water filtered through reverse osmosis tends to be neutral and is acceptable for regular use provided minerals are supplemented.
Drinking Water Purification Methods:
Boiling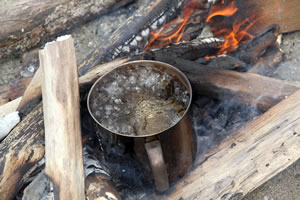 This is the surest way to sanitize your water but it may not be realistic if your energy sources are limited. If you opt to boil, it takes anywhere from 3-12 minutes depending upon your elevation to kill pathogens and you'™re going to lose part of the water to condensation.
For most elevations, 3-5 minutes will suffice but the higher you are, the longer you need to boil it because water boils at a lower temperature at higher elevations. If you choose to boil your water, do so when you'™re cooking or doing other things that require fuel in order to save as much as possible. Again, this is one of the easiest ways of purifying water as long as you have a heating source.
Drinking Water Purification Methods: Solar
Pasteurizing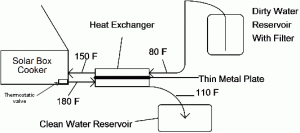 Solar Drinking Water Purification Methods
Heating your water to 160 degrees for a minimum of 6 minutes will kill pathogens and parasites in water. This is almost always via a solar setup. It uses less fuel than boiling or can even be performed using solar heating devices that you can make at home in a pinch.
Contrary to popular believe, you do not have to boil water to make it safe to drink. Heating water to 65° C (149° F) for 6 minutes, or to a higher temperature for a shorter time, will kill all germs, viruses, and parasites. This process is called pasteurization and is typically used when the sun is your only viable of the drinking water purification methods.
Drinking Water Purification Methods:
Chemical Treatment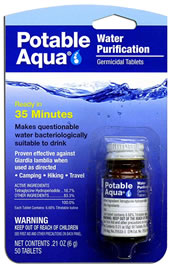 Treating your water with chemicals that kill bacteria, viruses, parasites and other impurities is probably the best of all of the drinking water purification methods in order to ensure you're drinking safe water. The downfall to using chemicals is that you can often taste them in the water.
You also need to know how much to use because if you use too little, it won'™t purify the water but if you use too much, it can make you ill. Unless otherwise stated, you should let your water sit for at least 30 minutes in order to give the chemical time to work.
Drinking Water Purification Methods:
Chlorine Bleach

If you can't boil water. You can use regular, unscented chlorine bleach as one of your drinking water purification methods. Chlorine bleach is suitable for disinfection and sanitization as indicated on the label. The label may say that the active ingredient contains 6 or 8.25% of sodium hypochlorite. Do not use scented, color safe, or bleaches with added cleaners.If water is cloudy, let it settle and filter it through a clean cloth, paper towel, or coffee filter.
This is just standard household bleach (sodium hypochlorite) and is an integral part of your emergency supply kit because it kills everything. Use the unscented kind and simply add 16 drops (1/4 teaspoon) to 1 gallon of clear water or 8 drops (1/8 teaspoon) per gallon of clear water. Rotate your bleach because it begins to degrade after 6 months or so.
Drinking Water Purification Methods:
Iodine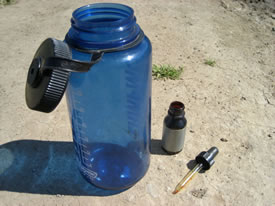 Though it changes the color and taste, 2% iodine tincture can be used safely and is a great back up plan for the other drinking water purification methods. It can be used effectively to purify water as well as clean wounds. Use the same amount of iodine as you would bleach. Iodine kills bacteria and viruses but is only moderately effective against disease-causing protozoa. You can also buy iodine tablets.
Always use Liquid 2% Tincture of Iodine. Add 5 exactly drops per quart when the water is clear. Add 10 drops per quart when the water is cloudy. Polar Pure Iodine Crystals Fill the Polar Pure bottle with water and shake. The solution will be ready for use in one hour
Drinking Water Purification Methods:
Calcium Hypochlorite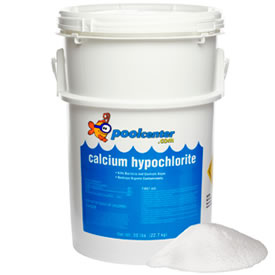 Also known as Pool Shock, calcium hypochlorite has no expiration and doesn'™t lose effectiveness. It'™s also extremely inexpensive. For about $5 you can get enough to treat 10,000 gallons of water. Make sure that you buy a brand that only has 73% or greater calcium hypochlorite and inert ingredients; no other chemicals or algaecides.
Make a solution using ½ teaspoon dry granules to one gallon of water and label this poison. Dissolve the granules in the water and then use 1/8 cup of the solution per gallon of water. This has about the same germ-killing power of bleach as it'™s just an alternative chlorine product.
Drinking Water Purification Methods: Chlorine Dioxide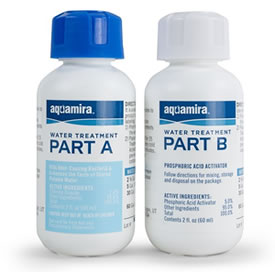 These tablets / liquids are a modern solution that you should consider adding to your drinking water purification methods. They work well to kill all of the bad stuff in your water without adding any bad taste or smell. They'™re also portable and have no expiration date. The downside is that they take 4 hours to purify your water but they are extremely effective as well as being easy to store and portable.
Dissolving Chlorine Dioxide tablets in water releases chlorine dioxide, a water-soluble gas and powerful biocide that exhibits an effective and rapid kill of multiple organisms under a wide pH range. Chlorine dioxide gas works by penetrating the cell walls of contaminating microorganisms, reacting with vital amino acids within the cell and, ultimately, killing the organism.
Drinking Water Purification Methods:
Mechanical Filtration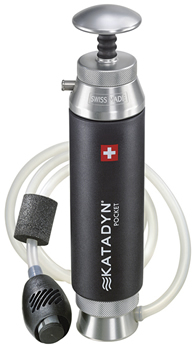 Mechanical filtration may be used independently or in conjunction with either heat or chemical purification methods. There are basically three classes of water filters: portable water filters, counter top water filters and in line water filters. The concept is simple: the water runs through a medium such as sand, charcoal, silver, and/or ceramic that strains out debris and contaminants. They come in many different forms including:
Personal devices such as water bottles
Point-of-use filtration that'™s attached to your sink
Hand-held pump devices
Homemade devices built to meet the filtration needs of the user
Commercially-produced units that are created to meet water needs when municipal water isn'™t available. These come in different sizes and styles as well. Of the top 5 ways of purifying water, this is the easiest and most effective.
Drinking Water Purification Methods:
Ultraviolet Light
Ultraviolet drinking water purification methods. There are several different types of water purification devices that use ultraviolet light to kill pathogens in water. In order to use this method effectively the water needs to be clear. Homemade versions can be found all over the internet. UV light treatment doesn'™t kill viruses. Among the various ways of purifying water, this method is the least effective in terms of killing all the harmful pathogens.
There are many different types of water purification methods and which one that you choose is entirely dependent upon your filtration needs. Some simply filter out impurities while others purify your water as well as most chemicals.
There are also reverse osmosis machines available but they'™re not really efficient in an emergency because they depend upon high water pressure to be effective. They'™re a great way to conserve water on a standard daily basis though!
Continue Tutorial Below
---