Hand Tools That Everybody Should Have Handy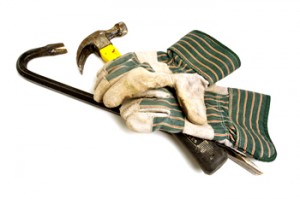 Especially if you live in a condo or apartment, you probably don't put much thought into owning tools, but should a disaster occur, you're going to need a few of them in order to survive. Electric tools will be useless if there is no power, so always keep hand tools at the ready. Even if you don't own a single one of these, don't panic. They're all readily available for a nominal amount of money, especially if you keep your eye on yard sales and flea markets.
Here are the top 11 hand tools that every survivalist should have in their home if you plan on bugging in, along with some of the things that you can use them for.
Claw Hammer
There are several different types of hammers but the one that you should look for has a claw on one side and a head on the other. This is an awesome tool for:
Removing/pounding in nails
Prying
Breaking things
A weapon
Breaking Ice
Opening canned food
Chopping roots or small saplings
Shovel
There are so many uses for a shovel that there's no way to list them all! Here are just a few:
Digging latrines
Digging trenches to stop or catch water, or to prevent a fire from spreading
Digging a fire pit
A weapon
Planting a garden
Shoveling snow
Spade
Digging small holes, including cat holes
Gardening
A weapon
Crowbar
This is truly a multi-use tool that you'll find yourself using for many different tasks. With a little creativity, a crowbar can do many things in a pinch.
Prying open doors
Leverage to lift things
A weapon
The claw can be used to remove embedded objects
Breaking things
Popping locks
Pry apart two objects
Multi-Use Tool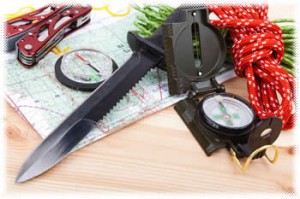 There are many different types of multi-use hand tools but here are some of the most useful accessories:
Serrated knife/saw
Standard blade knife
Phillips and Flat head Screwdrivers
Pliers with wire cutter
Can opener
Scissors
Awl
Survival Knife
This is a tool that has more uses than I could possibly record here, but let's give it a shot:
Cutting meat or anything else
A weapon
There's a cable saw in most of them that would work as a good backup for saplings, etc.
There's a compass in case you need to get out
There's usually fishing line and hooks in case you live near a stream
The serrated side can be used to strike your flint for fire
Hatchet
The uses for this tool are practically innumerable. You never know when you're going to need to chop or hack through something.
Chop wood
Weapon
Breaking ice or anything else that needs busted
Cut saplings to fix roof
Butchering meat/cutting through bone
Machete
Cutting brush to clear a path
Clearing a space for a fire
A weapon
Shaving tinder
Slaughtering captured wild game
Opening nuts
Breaking down a carcass
Cutting poles and materials to build a shelter
Hand Saw
The uses of a saw may seem obvious; you cut stuff with it, right? But why would you need it in your kit? Let's see:
Cutting trees for shelter or firewood
Extrication in case somebody is trapped
Cutting legs off of tables or other furniture for firewood
Safety Glasses
These technically aren't a tool but if you're going to be using any of the other hand tools or doing anything that could possibly cause something to get into your eyes, you may not be able to get to a doctor for treatment. Considering that, the best action is to be proactive. Safety glasses have never been more vital than in a disaster situation.
Duct Tape
Everybody knows that this is probably the most diverse tool on the planet.

Tape bandages
Patch busted water bladders or bottles
Fixing glasses or patching clothing
Making makeshift weapons by taping a knife to a broom handle, etc.
Build a shelter
Waterproof a package
Make a drinking vessel
Fixing broken tent poles, fishing rods, or just about anything else that breaks
This is a list that people probably arenât going to be able to completely agree upon and Iâm sure that you have other ideas about what tools you should have available in your home in case disaster strikes. Please feel free to share your ideas with us in the comments section below.
Continue Tutorial Below
---