Do It Yourself Food Preparation
How to Supplement Your Stockpile with Foods You Preserve at Home
We've already discussed commercially-prepared dehydrated and freeze dried emergency food in our article, The Advantages of Freeze Dried Emergency Food, but there are other methods that you can use to preserve food for your stockpile as well.
All of that beautiful food from your garden or local farmer's market makes a delicious, nutritious addition to your stores, but how can you do it yourself? We're going to discuss a few of the top methods of how to preserve food in detail so that you know a bit about your options.
Canning
You can, of course, buy canned goods at the grocery store, or you can do it yourself at home. Either way it will keep for years if stored properly. Canning simply involves using heat to kill bacteria, then sealing the food so that no air can get in to contaminate it. The sealing process also keeps out other contaminants, too. Learning how to preserve food through canning is a valuable skill. There are 3 main types of canning:
Boiling Water Canning
This is the easiest and cheapest way of canning but the food doesn't reach high enough temperatures to kill such spores as botulism. To combat this, there must be a certain level of acidity. To can food using this method, simply place it in sterilized jars with clean lids (seals).
You'll want to make sure that there's sufficient liquid to fill the jar to the bottom of the neck. Simply place the jars in boiling water for a designated period of time and the jars will seal, preserving the food from contaminants.
Pressure Canning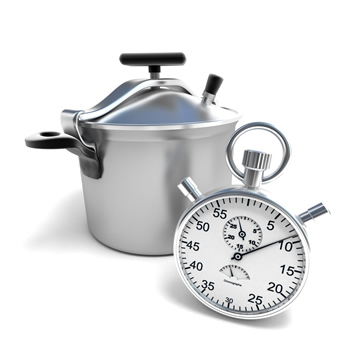 This is the same as boiling water canning except you place the jars inside a pressure cooker. This allows the food to reach higher temps and thus kills the spores. Because you don't need the extra acidity, you can preserve a wider variety of foods by using pressure canning. You can learn how to preserve food using both canning methods by taking classes offered through local community colleges and possibly your county farm bureau.
Dry Canning
Dry canning is an excellent way to extend the life of dried foods such as herbs and dehydrated meats, veggies, and fruits. Simply place the food in canning jars along with an oxygen absorber and put the seal and ring on the jar. Voila," the oxygen absorber sucks the air out of the jar and it seals. The awesome thing about this method is that you can open the jar and as long as you didn't damage the seal, it will reseal when you put the lid back on. If you want to learn how to preserve food using this method, take a class or do thorough research to insure that you do it correctly.
Vacuum Packing
Learning how to preserve food through by vacuum packing is a great way to extend the life of your frozen or dehydrated foods. You simply place the food in plastic bags and a little machine sucks the air out of the bag and seals it. It's not good as an independent food preservation method but works well with the other methods.
Drying
Drying foods is another good way to extend their longevity and is a great method for foods such as grains, herbs and legumes. You can buy commercial home food driers or you can also use solar power to do it.
As you can see, there are a number of do-it-yourself food storage methods that you can use to supplement your commercial goods. Most of the equipment that you'll need for drying, dehydrating and canning is fairly expensive up front, especially when you compare it with the cost of purchasing commercially-produced stored foods. However,once you know how to preserve food, you have the advantage of knowing exactly where your food comes from and what's in it!
Continue Tutorial Below
---