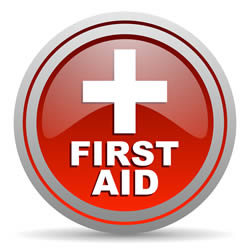 A well-stocked first aid kit is every bit as essential to your stockpile as food and water. After all, how dumb would it be to die of infection from a little cut when a dab or two of iodine would have saved your life?
The problem is that there are about a million "œcures what ails you" products out there so which ones should you include in your survival first aid kit? We've put together a list of items that no first aid kit should be without. Make sure to add items that are needed by family members with special medical needs, such as those with diabetes.
30-day supply of any life-sustaining prescription medication, more if obtainable
10 non-latex rubber gloves
Pencil and small notebook
1 pack tooth wax
1 box Benadryl
1 tube of hydrocortisone cream
1 Epi-Pen if obtainable
1 bottle tincture of iodine
1 bottle 97% isopropyl alcohol
1 bottle hydrogen peroxide
1 bottle saline solution
10 alcohol pads
1 tube topical analgesic cream
1 pair tweezers
1 roll 4″ gauze bandage
1 roll of 2″ bandage is nice but if you don'™t have room, you can always fold 4″ gauze in half.
1 box variety-size adhesive bandages
1 box butterfly-type wound closure strips
Triangular bandage to use as sling
Ace wrap
Gauze pads, 2×2
Gauze pads, 4×4
1 roll surgical tape
Bandage Scissors
Shears
2 Hemostats
Magnifying Glass
Ice packs
Heat packs
Dial Liquid Gold Soap
Aspirin 350mg
Ibuprofen 500mg
Acetaminophen 500mg
2 packs of plain sugar
1 pack needles, various sizes
1 pack single-edge razor blades
1 pack large and small safety pins
1 package fishing line, 8lb test
1 roll white cotton thread
20 feet of 550 parachute cord
10 OB tampons -" these are great for everything from bloody noses to packing wounds
Waterless hand sanitizer
Eye wash
Eye dropper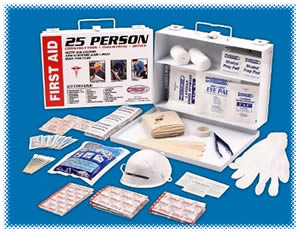 You can contact your local Red Cross and they'™ll provide you with a first aid instruction manual or you can find one at your local superstore. You can learn first aid techniques online too, just be sure to print them out and keep a copy in your survival first aid kit for easy reference.
If possible, store your first aid kit in a waterproof container and be sure to rotate the stock in it just like you do with everything else! This isn'™t just a survival first aid kit -" it'™s also great to throw in the car for camping trips or even ballgames.
Remember to replace anything that you use from your kit; the entire point of having it is to have readily-available supplies in case of an emergency and if disaster strikes, you want your survival first aid kit to be stocked and ready!
Continue Tutorial Below
---